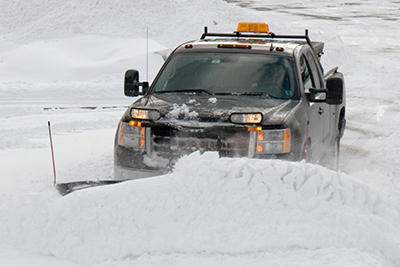 Syracuse, NY Snowfall
Syracuse had the most snow fall of any U.S. city during the winter of 2016 and 2017. Businesses and residents alike know that snow is a part of life in our area. Because of this, when a snow storm hits, your organization needs to be prepared to be open for business. Let Grasshopper Property Services help you keep your business up and running this winter.
Get Commercial Snow Plowing near Syracuse, NY
Grasshopper Property Services provides commercial snow plowing services when you need it. Commercial snow plowing is essential for employees to safely get to work. During Syracuse's winter tundras, parking lots are only half the battle. Our commercial snow plowing services can clear your sidewalks, walkways and parking lots to allow customers and clients to safely visit your location.
Grasshopper Property Services Commercial Snow Plowing
Since 2007, Grasshopper Property Services has provided the most reliable commercial snow plowing and snow removal services to people in and around Syracuse, NY. We provide exceptional, high-quality commercial snow plowing services to make sure our customers' properties are cleared for operation. At Grasshopper, we make sure each member of our staff is properly trained and equipped to take on whatever snow Syracuse, NY has to throw their way.
Grasshopper Property Services takes pride in utilizing the proper tools and equipment, giving us the advantage to fulfill any commercial snow plowing job put in our way. Our speed and efficiency is what separates us from the competition. Being prepared for the snow is half the battle, which is why we are readily available for our customers every call.
Don't let the snow stop your business from making money. Let Grasshopper keep your parking lots, sidewalks and mind clear this winter so you can be stress free and continue to run your business, snow free. 
Why Choose Grasshopper?
Grasshopper Property Service offers the most thorough and time efficient commercial snow plowing in Syracuse, NY. The Grasshopper vision is to keep your commercial lots safe and clear of snow all winter long.
The Grasshopper commercial snow plow team is full of expertly trained members, who keep up-to-date with snow plowing knowledge. We assure all of our members are aware of the Syracuse, NY area; so no Syracuse snow plowing job is too far for Grasshopper.
Contact Us for Commercial Snow Plowing
If you have any questions about commercial snow plowing and snow removal or want to schedule an appointment.